I had purchased a mountain bike in the early 80's, when they first came out, and I rode in the woods by myself. It was a lot of fun, but for years I didn't know one other person who owned a mountain bike. When I opened the shop the mountain bike thing was starting to catch on and I was selling quite a few of them. I started riding with a few of my customers.
The best local spot for off road riding was the Nassau / Suffolk Greenbelt Trail. This trail was built by hikers for hikers. They were pretty upset that we had invaded their trails. One of the guys I rode with, Pat Astegher, thought that we should start an advocacy organization to deal with the brewing conflict.
Pat invited eight friends to meet in his parent's basement and we started Concerned Long Island Mountain Bicyclists (C.L.I.M.B.). The club was huge, almost over night. I think the roster was around 800 at the end of the first year. There was tremendous vitality. People were coming out of the woodwork to get involved. We had monthly meetings, a great newsletter, weekly rides, an annual picnic, a Christmas party.
We did our best to make friends with the hiking club and we started meeting with various land managers. This was the area that I got involved in. We got permission from Nassau County Parks Department to build a new trail in Stillwell woods. Within a year we built a trail in Rocky Point on state land that was controlled by the Department of Environmental Conservation.
We worked out a deal with the Long Island Greenbelt Trails Conference to build a separate mountain bike trail next to the Nassau Suffolk Trail. They got a federal grant for $10,000 to pay for tools and materials.
C.L.I.M.B. had trail maintenance parties going on every weekend. I started a trail patrol where trained volunteers went out on the trails to assist and educate trail users about how to coexist harmoniously. We were going great guns.
We were associated with the International Mountain Bike Association (I.M.B.A.). They are the world mountain bike advocacy organization. In the winter of '95/'96 IMBA had its first (and so far, only) International Advocacy Summit at the Biosphere in the desert of Arizona. I was one of the invited speakers. It was a big deal. There were hundreds of people there including all the cycling press. I got a bad case of stage fright but I fought through it and gave a well recieved presentation.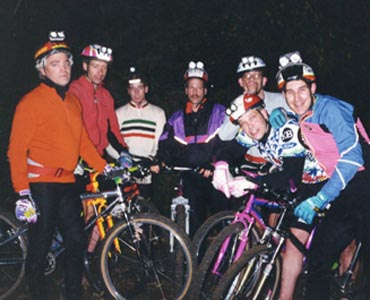 Here are a bunch of my friends from CLIMB on a night ride.
Left to right: John Nason, CLIMB founder Pat Astgher, Mark Young,
Gary Schacker, Glen Soffen, Me, and Larry Hladki.
I was up to my ears in all this stuff... There were a number of people who made a big effort to make Long Island a good place to ride mountain bikes while coexisting harmoniously with other trail users. I was one of them.
All of this involvement with L.I.W.A. and C.L.I.M.B. was a lot of fun but it wasn't paying the bills. The shop wasn't making much money. Mary was doing freelance writing jobs to make ends meet... Mark went off to collage. I decided that the shop needed to be bigger and sell more bikes if it was going to make it. After 4 and a half years in Centerport I moved the business to a bigger building on a busier road (25A) in Northport. I decided to keep the name Centerport Cycles even though the shop was now in Northport. My business M.O. was pretty quirky so why not the name? The new location was about a quarter of a mile from my home. That was nice. I hired a full time mechanic named Todd Hogeman.