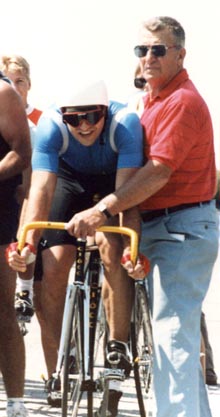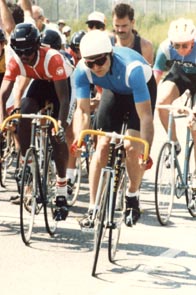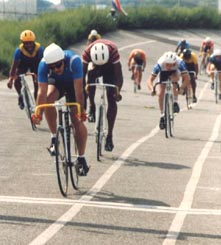 I really like this sequence of photographs taken by John Issendorf . It shows me winning a scratch race at the 1985 Labor Day Track Meet at The Siegfried Stern Memorial Velodrome, AKA Kissena. In the first shot I am being held by Syl Greco. I am sorry to report that Syl is no longer with us. In his day Syl was a top rider, and a later on, a great coach. His son Allen was on the Olympic Cycling Team in 1968, and Syl's granddaughter Jessica was the World Pursuit Champion. I built many wheels for riders that Syl coached. The last photo shows me crossing the finish line. It is a great feeling to see that line go under your wheels. Sorry, no victory salute; too cooked!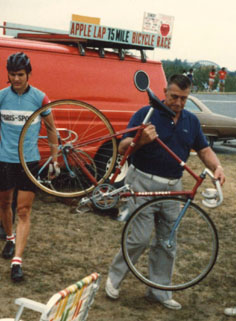 Here is Syl carrying Tommy Moschetto's bike. Tommy was a very good sprinter that Syl worked with. Tommy was clever but he didn't seem to have the power to medal at Nationals. Syl decided that he should concentrate on tandem sprints. Syl had me build three identical sets of tandem sprint wheels with very light rims and the spokes tied and soldered at two of the three crosses. I had never heard of that but I trusted Syl's judgement. Tommy rode with several different partners. I can't remember with whom, but he finally did win a bronze medal at Nats.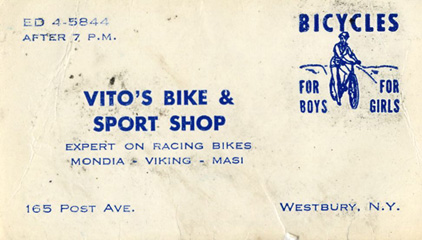 This Is Vito Perucci's business card from the days when he had a barber shop and did bike business on the side. I love the clip art. See my history page for more about Vito.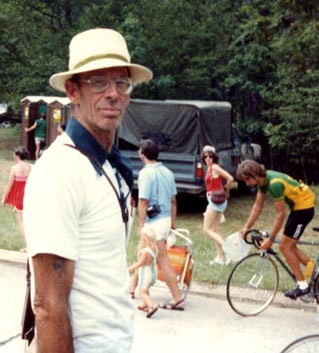 Here is one of the unsung heros of bike racing on Long Island: Ed Owens. Ed was a friend of Vito's who helped out running the races at Old Westbury and Uniondale. His day job was driving the book mobile for the Hicksville Public Library. He was a cool guy. Anybody seen Ed lately?
The Toga rider in the background is Dana Castro. He won the Apple Lap immediately after having his licence down-graded to Category 3 from 2. He got the down-grade based on the premise that he didn't have time to train because he had just enrolled in medical school. The Category 3's were given a handicap in the race and Castro used that to good advantage.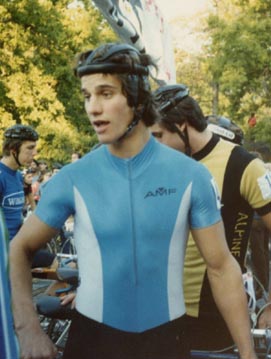 Here is a shot that my wife took of Eric Heiden in Central Park in 1981. As you probably know Heiden won an unprecedented five Gold Medals in Speed Skating at the 1980 Olympics in Lake Placid. He was also a national caliber cyclist and he qualified as an alternate for the Summer Olympics that same year. If you recall the U.S.A. boycotted the 1980 Summer games in Moscow because the U.S.S.R. had invaded Afganistan. Heiden went on to win the U.S.Pro Road Championships and he also rode in the Tour de France. He is presently an orthopedic surgeon in California and leaps tall buildings in a single bound!
Eric Heiden wasn't the first Amercan to qualify for the Summer and Winter Olympics in the same year; Long Island's own Arne Urlass was. I think the year was 1960. He was a tremendously powerful rider, and won countless races. Arne has retired and moved south. He is well into his 70's but I hear that he is still "going like the hammers of hell." Anybody got a good picture of Arne?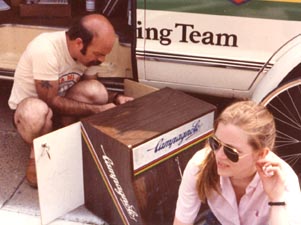 Speaking of my lovely wife, here is a picture of her sitting on the curb next to the Campagnolo neutral support van manned by (the late) Bill Woodall. Bill was a fixture at the races for many years... So was Mary.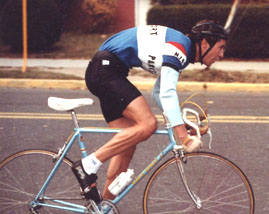 This is my old pal and original training partner Richard (Mitch) Minchik at a criterium in Babylon. He was always as lean as a greyhound and he is the only guy I know who LOST weight when he stopped riding. He's been off the bike for a couple of decades and his legs still look like that.