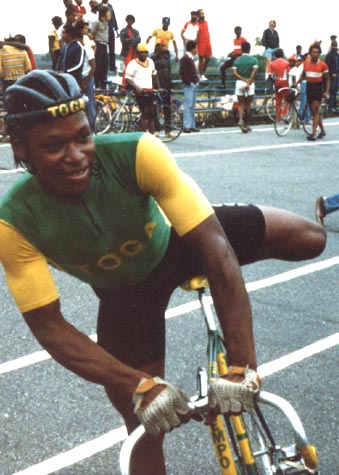 Here is a picture of 1984 Olympic Silver Medalist Nelson "T-Bah" Vails that I took at the Kissena track. Nelson was a bike messenger from Harlem who cut his teeth as a sprinter on our local velodrome. Mitch and I once rode a 3-up match sprint against him. I wish I had a picture of that. Yes he has two legs; it is just the camera angle. I WISH he only had one leg. Maybe then we would have stood a chance.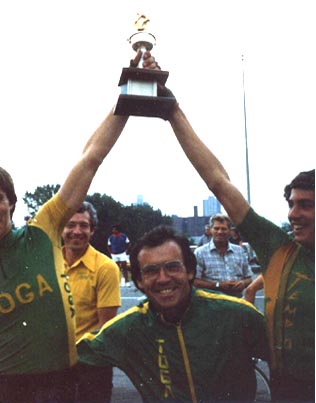 In those days Nelson rode for the Toga Tempo Thunder-Bolts. Toga was the top squad in N.Y.C. for many years. The sponsor was Gaylen "Lenny" Preheim (yellow shirt) who owned a Manhattan bike shop of the same name. Pictured here are Jimmy Keogh who was the team coach flanked by Brian Fucci and ????.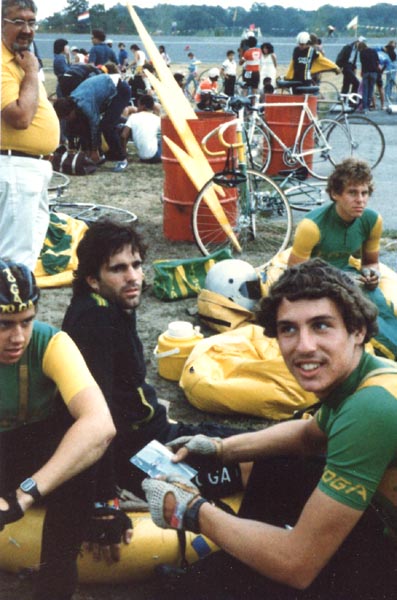 You may have noticed that the Toga team colors were a very distinctive green and yellow. They really played it up too. They had green and yellow everything. Lenny was an extremely flamboyant dresser. He came to races decked out in a green and yellow top hat and tails with a pair of green and yellow cowboy boots. Check out the yellow lightning bolt. The riders here on the infield of Kissena are (L to R) Bill Monaghan, David White, Brian Fucci and Eric Zaltas. Bill later opened a bike shop in White Plains and his sister Hilda was the district rep for a few years. David White was a top male model. You may recognize him as "The Winston Man." He was from down south, but he came to New York to smoke Winston cigarettes... And us.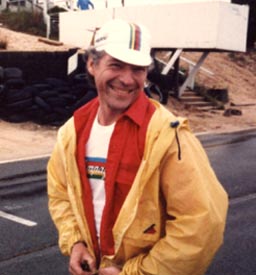 Here is Lenny Preheim at the State Road Championships in Bridgehampton. He passed away a few years ago but the Toga shop (and colors) live on...
The race where this photo was taken started in a cold torrential rain. The pace was full throttle right from the gun and most of the field got dropped.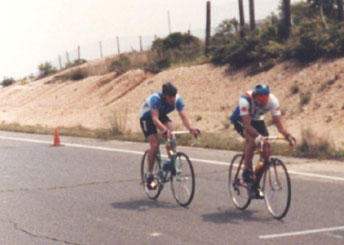 The rain finally stopped but it remained windy and raw. There were only about 12 riders left. The race came down to a break-away of Hewitt Thayer and Tom Donahue. Incidentally both of these guys rode for Toga as some point in their careers.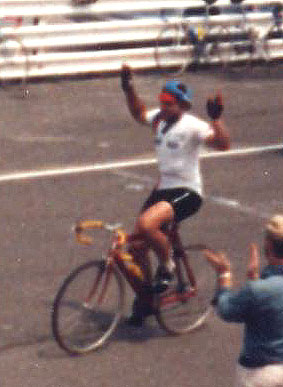 After 100 grueling miles in the rain Tom had the strength to attack Hewitt on the final climb and won the race.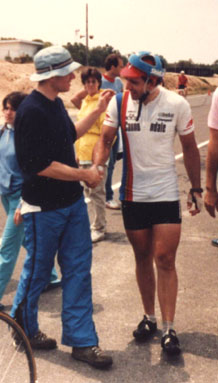 Sporting a Skid Lid helmet, Tom Donahue basks in the glory of winning the State Championships...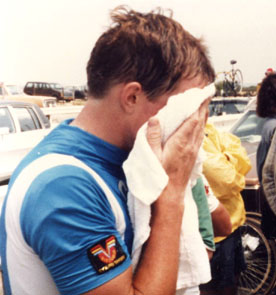 And Hewitt Thayer hides his face. Hewitt got his revenge the next year when he won four out of a possible six Gold Medals in the State Championships and he got Silver in the remaining two. Hewitt and his wife Kristen Fellenz both have a Bronze Medal from the Team Time Trial in the Nationals.
Today Tom and Hewitt are good friends. When they get together and the wine starts flowing, this race is a common topic of conversation; usually brought up by Tom...