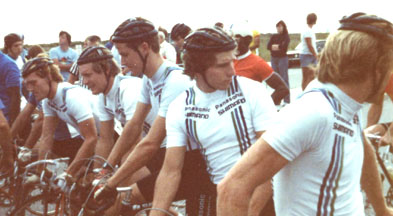 The Panasonic / Shimano Team circa 1980. Bruce Donaghey, Wayne Stetina, Dale Stetnia, Thomas Prehn and Ian Jackson (maybe?). Thomas Prehn recently wrote a really good book on bike racing tactics.
OK, Wayne Stetina sent me a correction: 1981 Panasonic/Shimano team: that's Hugh Walton, not Thomas Prehn. It is Ian Jackson with his back to the camera.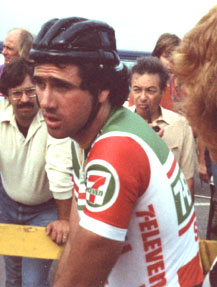 Roger Young was a world class track rider. His father, Claire, was a famous coach with the Wolverine Schwinn Team. His sister, Sheila, was an Olympic and World Champion on the bike as well as in speed skating, and is married to Jim Occowitz. Roger is the director of the new velodrome in Los Angeles.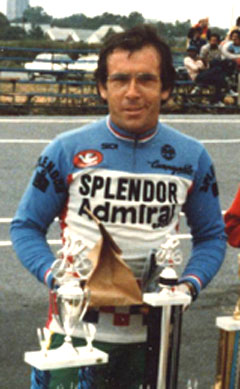 Jimmy Keogh was a very clever rider who came to New York from Ireland. One of his specialties was riding a Miss & Out and picking the rider who was going to be called out before it happened. He was a real fun guy.
For several years Jimmy was the coach of the Toga Team. Lenny Prehiem who sponsored the team was generous to his riders but very demanding. The riders were greatful to Lenny but their true allegiance was to Jimmy Keogh. One day in Central Park the team didn't perform up to Lenny's expectations in a particular race. Lenny was giving the whole team a good tongue lashing right in front of all the spectators at the finish line. Jimmy had enough and, accompanied by some choice words, threw his team bike down in the road and a his jersey on top of it. Immediately all the Toga riders did the same. There was a huge haystack of green and yellow bikes and jerseys in the middle of the road. The whole team walked.
It was great for my club (GBSC) because most of the Toga riders came over to us for the rest of the season.
ROLLER RACING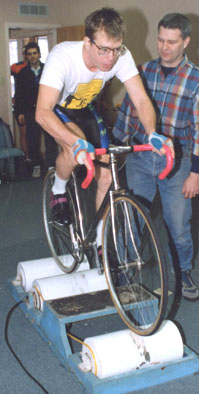 Long Island Wheelman Glenn Vincent at the roller races. Note the Centerport Cycles T shirt and cool old Dossche Sport track bike.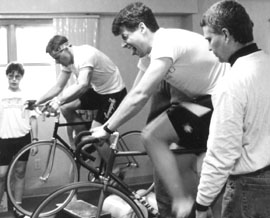 Robert Brugna (close) and Harry Slutter go head to head on the rollers. The format of roller racing is a standing start one mile match race. If you win you advance to the next round. The maximum gear roll out is 303" and the minimum crank length is 165mm.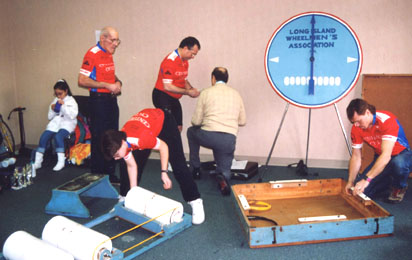 This shot shows the Long Island Wheelmans' roller racing rig being set up. It is the nicest set of racing rollers that I've seen. They were built in the 1950's buy a guy named Andy Hamel. Legend has it that Jackie Simes did a sub one minute standing start mile on these rollers. His opponent for that race was Pete Senia Jr.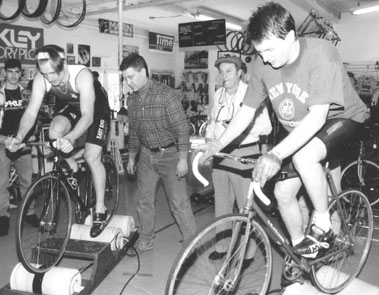 Here is Gregory Durovich (left) going against Jim Hettenbach. Pete Senia (with cap) is officiating. Success in roller races is dependant on the ability to pedal very quickly combined with a deep anaerobic capacity.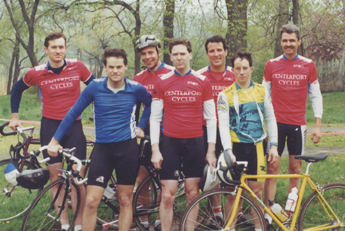 This a group of L.I.W.A ./ Centerport Cycles riders after a race in Prospect Park. Left to right: Scott Lenz, Charlie Kempner, Harry Slutter, Derrick Brayton, David Orelli, Thomas Feehan, and Ken Pritchard