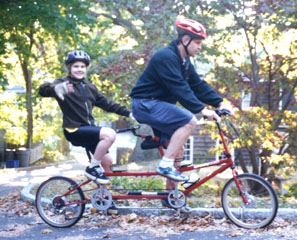 Me and my older daughter, Clementine. I have a picture of my younger daughter, Amelia, on one of my "History Pages" so I figured that Clementine should have her ten seconds of fame as well. This was a few years back. She just sent off her college applications. Family Tandem courtesy of Scott and Pam King.
is an event for vintage lightweight bicycle enthusiasts that is held in Greensboro, North Carolina every May. The event is promoted by Dale Brown. Dale owns Cycle D'Oro there in Greensboro, and hosts the Classic Rendezvous web site and the email list server by the same name. See my "Links" page.
After procrastinating for several years I finally went to Le Cirque in '03. It was really great! I went back again in '04 and now it is permanently on my calender. The rest of the pictures on this page are from the Cirque.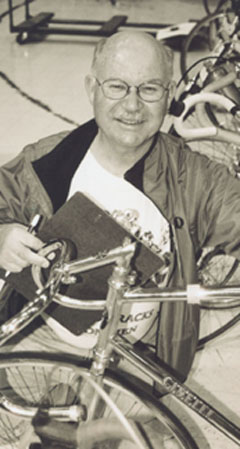 This is Dave Staub. I didn't know Dave for long but I liked him a lot. He was an international caliber track rider during the 50's and he also worked for Schwinn for over 30 years. Dave was a frequent contributor to the Classic Rendezvous email list, and a great source of information in the study of vintage lightweight bikes. Here, he is working as a judge; sizing up John Pergolizzi's Cinelli track bike at Cirque '03. If you had the pleasure to know Dave I'm sure that you will agree that he was a great guy. Dave passed away while riding his bike several months after I took this picture.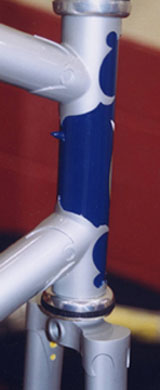 This is a detail shot of a Peter Weigle frame featuring Richard Sachs' Newvex lugs.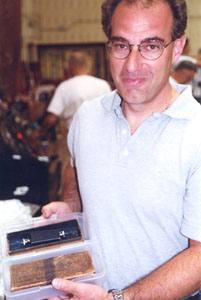 John Pergolizzi displaying his "Oldest Known" Campagnolo box.
At Cirque '03 John and I were the only idiots to do the "Fixed Gear Friday" ride with no brakes. The next day we did a 40 mile group ride with quite a few rolling hills. Everyone traded in their fixies for geared bikes. Everyone but Pergolizzi. John did the ride on the Cinelli track bike pictured above with a block chain, that deep drop bar and stem, and of course, no brakes. His gear of choice was 77 inches. Needless to say, everyone was impressed with the way John handled the hills. John's old coach Sammy Zeitlen would have been prowd.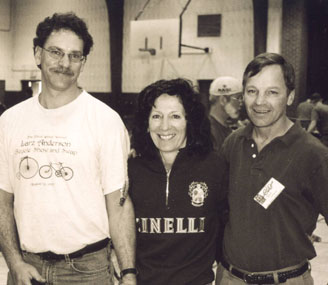 Good pals of mine: Paul Lee & Rita Lee and Peter Weigle.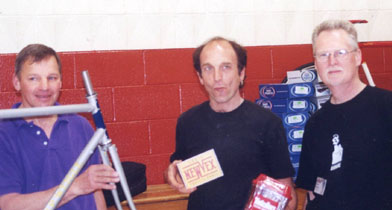 PeterWeigle, Richie Sachs and Wayne Bigham.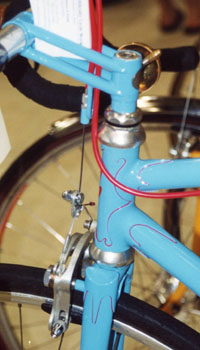 Custom frame by Simon Firth. Simon heroicly made the lugs, crown and stem.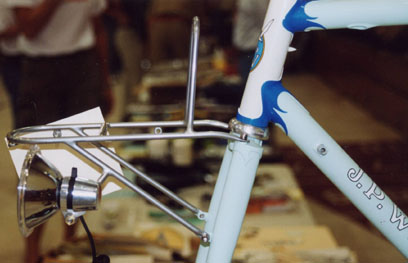 Peter Weigle frame featuring his hand cut "Burlesque" lugs and custom rack. The racks that Peter has been making are in a class by themselves.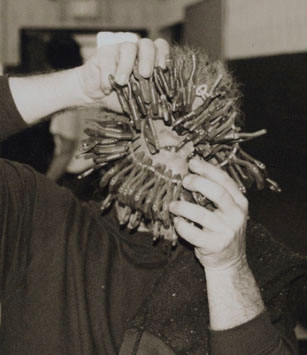 Brian Baylis clowning around. He is holding about a hundred rear drop-outs that are strung on a wire. Brian, Peter Weigle and Richard Sachs are among the very best traditional frame builders. These guys are all happy to share their wisdom with anyone who asks.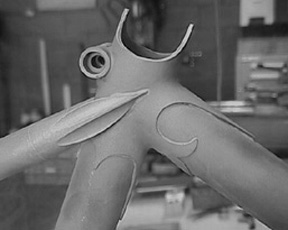 This is a detail shot of a frame that I made and displayed at Cirque '03. The double fluted top eyes are something that I made up myself. Brian Baylis admired them and asked if I might consider making a set for him. I was honored to do it.
I cooked up a different set of top eyes for the bike that I displayed at Cirque '04. Peter Weigle took a shine to those and now I've made some for Peter as well.
I am thrilled that these "kings of traditional frame building" like the little bits that I've made and want to incorporate them into their bikes.