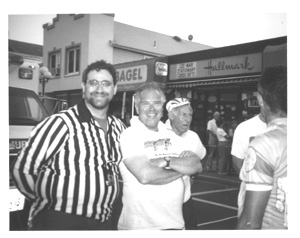 This is Don Winston (stripes) and Craig Roberts at the "Mile-A-Minute Murphy" centenial race in Farmingdale. I think it was 1998. Craig was the promotor and Don was the Moto Ref. Craig had the riders do a one mile prolog time trial before the criterium. I thought that was a clever idea. I was the holder.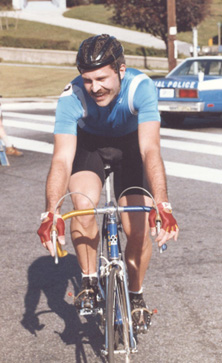 This is me at a crit in Glen Cove. I got dropped.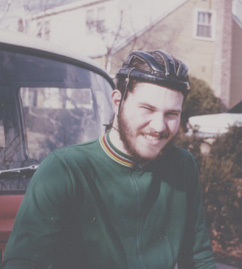 This is me in 1973; the year I started racing.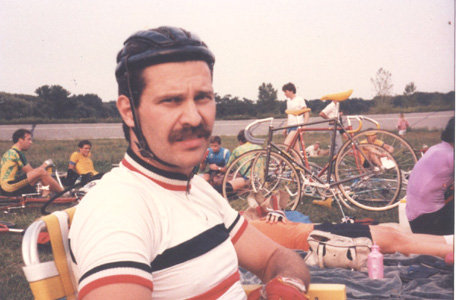 This is me about 10 years later on the infield of Kissena.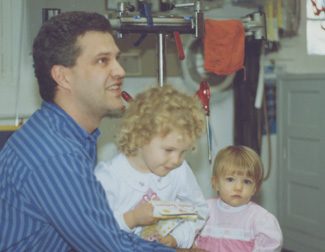 And another 10 years later in Centerport Cycles first location with my kids.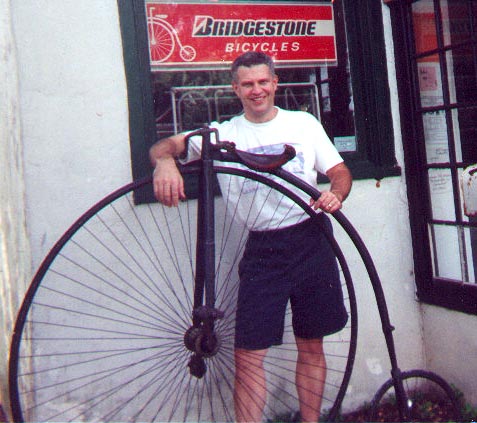 About the same time, in front of the first location in Centerport. The shop hasn't been located in Centerport for over 10 years. maybe one day I'll update the name...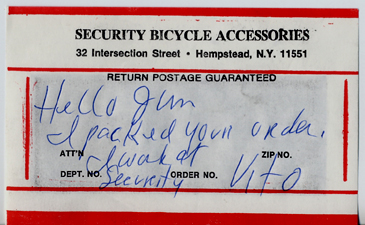 When I first opened the shop Vito Perucci was working for one of the distributors that I bought parts from. He put this note in with one of my orders.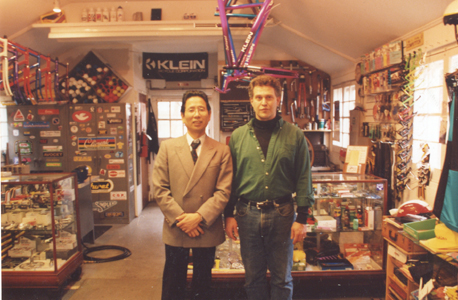 For the first four years that the shop was open I was a Bridgestone dealer. After that Bridgestone decided to stop selling bikes in America. The bikes that they sold were very cool and Bridgestone has subsequently become quite a cult bike. This is me in my first shop with Tad Kodama, the President of Bridgestone U.S.A.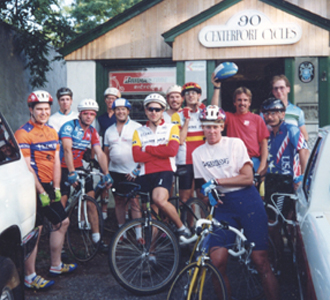 We used to have a shop ride every Thursday evening.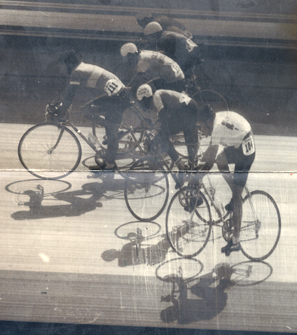 This is photo finish from a Cat 4 race in Point Lookout. I like the shadows... I'm at the bottom of the page in white. It shows me finishing 6th. Even though I am the last guy in this group you can see that I am going faster then the rest because my wheels are so ovalized. I started sprinting very late and it was a miracle that I snuck into the money. You can't see it here but I had to squeeze between the next rider and a storm fence. Somebody leaned over the fence with a camera right at the finish line. I hit the camera with my shoulder and knocked it out of the person's hands... I started my sprint so late because I was cooked from trying to break away solo with two laps to go. I got caught at the bell and was sucking wind trying to hold my position and recover to contest the sprint. My break-away was poorly timed as evidenced by the fact that I got caught, but I was proud of myself for hanging in there and getting my wheel across the line. That year I upgraded to Cat 3.